Named after the wonderful natural landscapes surrounding the area, Paradise Valley is an oasis of elegance in the heart of the desert. This small town evokes a feeling of wealth around every corner reflected in the high-quality restaurants, upscale shopping facilities, and more. It's no wonder pioneers settled here, despite the trek to the middle of the desert just to get here.

Discover artistic masterpieces, breathtaking natural views, unadulterated relaxation, and refreshing available brews. This unforgettable haven features attractions that inherently satisfy the heart of the wanderer and the thrill-seeker alike, and there are at least 16 fabulous ways to get outside in Paradise Valley.

Located in Maricopa County close to Phoenix, Paradise Valley is one of the top places to stay while you explore the beauty of Arizona. There are countless attractions with all sorts of things to do, which means you're going to want to visit with a plan. We always recommend a few rounds of golf, which is what made this part of Arizona famous.
1. Golf
Just a short while away from Paradise Valley, and in the heart of Phoenix, is where golf lovers will find the HQ of Ping, one of the world's leading golf equipment brands. Whether you want to watch the PGA Tour front and center or get your own 18 holes in for the day, an abundance of choices connects you with a huge variety of golf courses suited to all different skill levels. For a great place to start, check out the Short Course at
Mountain Shadows
or Camelback Golf Club.
2. The Mohave Trail
Become one with nature as you explore the stunning views that set the stage for an afternoon of dog-friendly hiking. Countless stops along the way give you plenty of breathtaking backdrops to snap a few photos while seasonal wildflowers and small reptiles and snakes capture your attention. As a word of caution, watch out for rattlers. You're also going to want a canteen or two of water to stay hydrated, along with a pair of comfortable shoes to have a pleasant experience.
3. Mummy Mountain
After a day of hiking The Mojave Trail, lovers of wilderness and the natural environment searching for another way to get out of the towns and cities will discover the 320-acre recreational area known as Mummy Mountain, where a 2,200-plus-foot peak creates scenic views nothing short of spectacular.

A New York banker named Charles Mieg named the mountain in the 1940s, noting its resemblance to an Egyptian Mummy. Stand at the bottom and you might not understand how Mummy Mountain got its name. Move further up the slopes, and there's no denying why Mieg coined the phrase.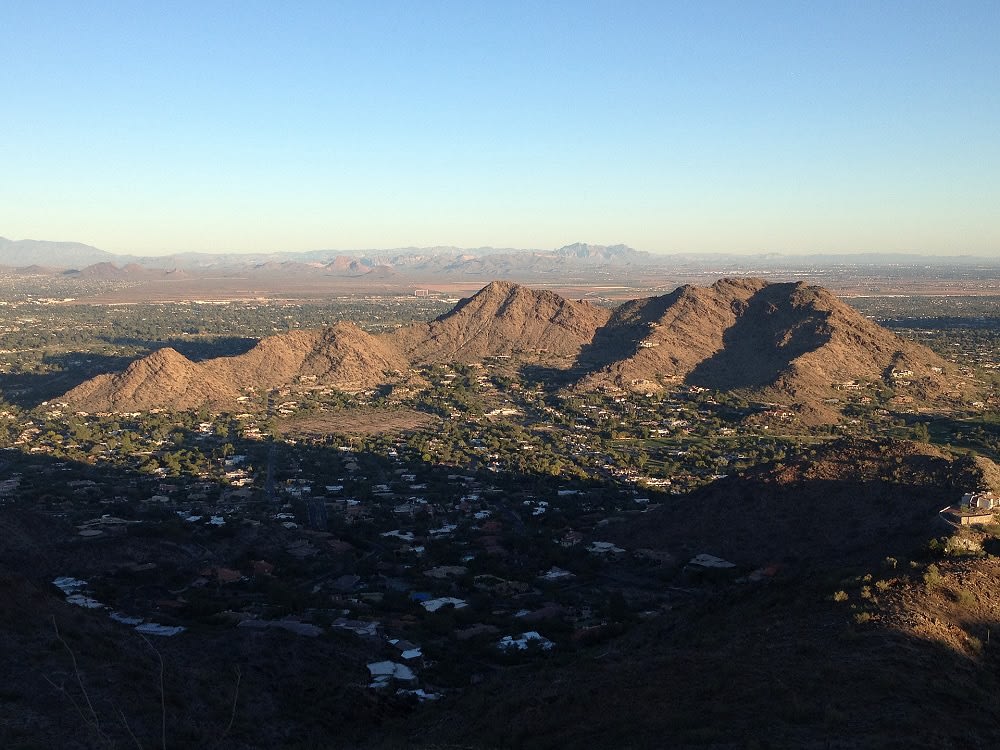 Image courtesy of Peakery
4. Cosanti Originals
Italian-American architect, Paolo Soleri completed some of his finest work inside the studio and gallery since created for public appreciation known as
Cosanti Originals
. Notable exhibits include the ceramic and bronze wind bells that gave the gallery its reputation along with several imaginative pieces from bowls and pots to other historical artifacts. You can even purchase novelty items including Soleri originals.
5. O.H.S.O. Brewery
An acronym for the
Outrageous Homebrewer's Social Outpost
, this venue serves up a collection of alcoholic beverages where locals and other visitors gather for a few drinks from brunch to dinner and especially the hip and happening Happy Hour. WIth both gluten-free and vegetarian alternatives included on a delicious menu, even your friends with dietary restrictions will find the perfect meal to go along with a refreshing drink.
6. Jade Bar
The Sanctuary Camelback Mountain Resort is home to the
Jade Bar
, where patrons can enjoy an extensive variety of alcoholic beverages alongside the occasional performance from local musicians. Taste around to find your favorite spirit or cocktail made from natural ingredients and be sure to consider calling a cab or an Uber to make it a safe night out.
7. Paradise Valley Country Club
If any spot captures the impression of local wealth in the area, it's The Paradise Valley Country Club. Prestige golfing and amenities give you and the whole family the chance to make a full day out of fun things to do. Discover a lovely setting where you can take part in everything from health and fitness facilities to tennis courts and swimming pools to quiet spots for relaxing and taking in the scenic views. At the end of the day, sit down with the family to indulge in the fine dining and wine that earned The Paradise Valley Country Club its reputation for signature quality.
8. El Chorro Lodge
Another place rich with a calendar of events and countless activities is
El Chorro Lodge
. Grab a few members of your crew for a couple of rounds of bocce ball and sit down for a drink and a bite to eat as you listen to the music lineup of the day. Whether you want to visit for the day, book your next special occasion, or even plan your wedding, El Chorro Lodge is ready to accommodate you.
9. Cholla Trailhead
The adventurists searching for a hiking spot close to the town of Paradise Valley will discover a viable option at
Cholla Trailhead
, where lovely views and wildlife connect you to the beauty of nature. Whether you walk the three-mile trail or run, be ready to stop along the way and snap a photo. As the local birdwatchers know, Cholla Trailhead is also home to a mix of furry friends.
10. Joya Spa
Joya Spa
inside the Omni Scottsdale Resort & Spa is where you find yourself feeling relaxed, refreshed, and reinvigorated. Start with a dip in the pool or visit the sauna or steam room as you await the hours of healing bliss before you. After a busy day, nothing resets your system like the healing stones and collection of spa treatments offered by a well-trained staff eager to help you enjoy your holiday.
11. Barry Goldwater Memorial
Many Republicans view Barry Goldwater as the father of American conservatism in Post War USA. This five-term Arizona Senator and U.S. Presidential candidate against Gerald Ford in the 1964 election lived here in Paradise Valley for years, inspiring residents to erect a
bronze statue memorial honoring his legacy
. Since 2004, the Goldwater statue, made by cowboy artist Joe Beeler, has featured stone walls highlighting his many career milestones along with his famous quotes in the paths.
12. Franciscan Renewal Center
Established in the early 13th Century, the missionary organization is known as the Order of the Friars Minor, which still exists today, spread the word of St. Francis of Assisi in hopes of assisting the poor, welcoming the spiritual life to all people, and improving the lives of those in need. Visit the
Franciscan Renewal Center
, part of the Catholic Diocese of Phoenix, where you can meet today's friars, pray, and even volunteer for a brief time alone or with your family.
13. Glendale Historic District
Drive just half an hour west of Paradise Valley to find plenty of attractions to justify a full-day visit to the large city of Glendale. From delicious restaurants with glowing gaslights in the sidewalks to antique shops and more, there's always something to do. We always recommend adding
Glendale's Historic District
to your daily itinerary, where old bungalows, mature trees, and white picket fences make you feel like you are living decades ago.
14. Scottsdale Marketplace
Sometimes, you head out to the store to buy a specific item. Other times you just get an itch to shop. You can do the latter at
Scottsdale Marketplace
. Home to a fairly affluent population who demand only the best, Scottsdale is where you'll find the leading names and top brands for everything from gifts to antiques to houseware. While you're there, drop by Heidi's Corner and Artique Asian Imports, where something fancy is bound to call your name.
15. Tonto National Forest
Tonto National Forest
is the largest forest in Arizona, covering just shy of three million acres, where six million people gather to explore every year. Altitudes range from 1,300 to 8,000 feet while desert areas and thick pine forests give visitors a huge variety of terrains to walk or simply sit and take in the beauty of nature. Tonto is also a great place to camp with your family and friends. However, keep your campsite clean and rid of waste food so as not to attract black bears and other wildlife.
16. Phoenix Bat Cave
Home to an abundance of wildlife species, Arizona is known for being a viewing point for tourists. Among the most fascinating creatures, you will find here are the bats. June is the best month for bat-watching at the
Phoenix Bat Cave
when a full colony of Canyon and Mexican free-tailed bats gather on-site and fly freely at Maricopa County Flood Control Tunnel. Visit before sunset to catch a glimpse of these amazing bats and take in some of the most magical nature views.
If you want to take advantage of all of Paradise Valley's outdoor amenities, contact
The Karas Group
today. They'll help you find Paradise Valley real estate that is meant for you!