Paradise Valley Country Club
Since 1953,
Paradise Valley Country Club
has been a remarkable gathering place for locals, and today, the golf course here remains a prestigious and pedigreed stronghold in the golfing circuit. As an invitation-only club, Paradise Valley Country Club is able to provide their members with a tailored experience, and the diverse fairways offer challenging yet enjoyable gameplay.
TPC Scottsdale
The Stadium Course at TPC Scottsdale
hosts the Waste Management Phoenix Open. This stop on the PGA Tour attracts the largest crowds of any golf event in the world. The course is most famous for its par-3, 16th hole. Here, you can see the grandstands for the event, which go up a few weeks before and after the tournament, and create a "coliseum-like" experience that provides fans with one of the most exciting settings in professional sports.
The rest of the year, the course is open to golfers looking to enjoy a round on the same pristine fairways as some of the sport's top names. The fairways are maintained to PGA tour-quality standards year-round.
Scottsdale National Golf Club
Invitation-only and extraordinarily exclusive,
Scottsdale National Golf Club
offers a world-renowned golfing experience. Surrounded by the breathtaking expanse of the Sonoran Desert, a day golfing at Scottsdale National is one you won't soon forget. With forty-five holes and no residences surrounding the course, a round of golf here is an immersive experience that allows golfers to perfect their play.
Troon North
Troon North Golf Club
boasts two 18-hole courses that wind through natural ravines and foothills in the shadows of Pinnacle Peak. The immaculate fairways meander through the rugged desert landscape, offering an iconic golfing experience.
Perfect your swing at the club's practice facility, which features a full-length turf driving range with six target greens at various distances ranging from 50 to 250 yards. Prepare for Troon's challenging courses at the club's practice putting green, which offers over a dozen practice holes. The club also offers a large practice chipping green with a wide variety of shots for golfers looking to sharpen their chipping and pitching skills.
Arizona Country Club
Nearby in Arcadia,
Arizona Country Club
has been serving members since 1946, fostering an atmosphere for camaraderie and friendly competition. This course pairs sweeping views with rolling greens for a coveted experience. With over 70 bunkers and five water features, this course will keep players agile and laser-focused.
Talking Stick Golf Club
Both courses at Talking Stick Golf Club will challenge players according to their skill levels, allowing for customizable play you won't want to miss. Surrounded by the jaw-dropping Sonoran Desert, this Scottsdale stronghold is beloved by golf enthusiasts from around the globe. For beginner golfers, Talking Stick Golf Club offers The Player Development Program, which allows novice players to learn the ropes at golf clinics on their renowned greens.
Silverleaf
Touting a Tom Weiskopf-designed course, Silverleaf's par-72 course is not for the faint-hearted. Designed to spur the spirit of lighthearted competition, Silverleaf is the perfect course for avid players who want to stretch their muscles and novices hoping to take their skills to the next level.
Grayhawk
The stunning views and immaculate fairways of the Raptor and Talon courses at
Grayhawk Golf Club
are sure to offer an unforgettable golfing experience. The Tom Fazio-designed Raptor course offers thrilling challenges through a high-stakes game of risk and reward. Stretching over 7,000 yards from the back tees, the par-72 course unfolds over the gentle hills and across shaded natural arroyos in this picturesque corner of the Sonoran Desert. Most of Raptor's fairways are generous, and the greens are large with sweeping undulations. Misses tend to find deep greenside bunkers and grass collection areas, making the scramble to get up and down a true test of the short game.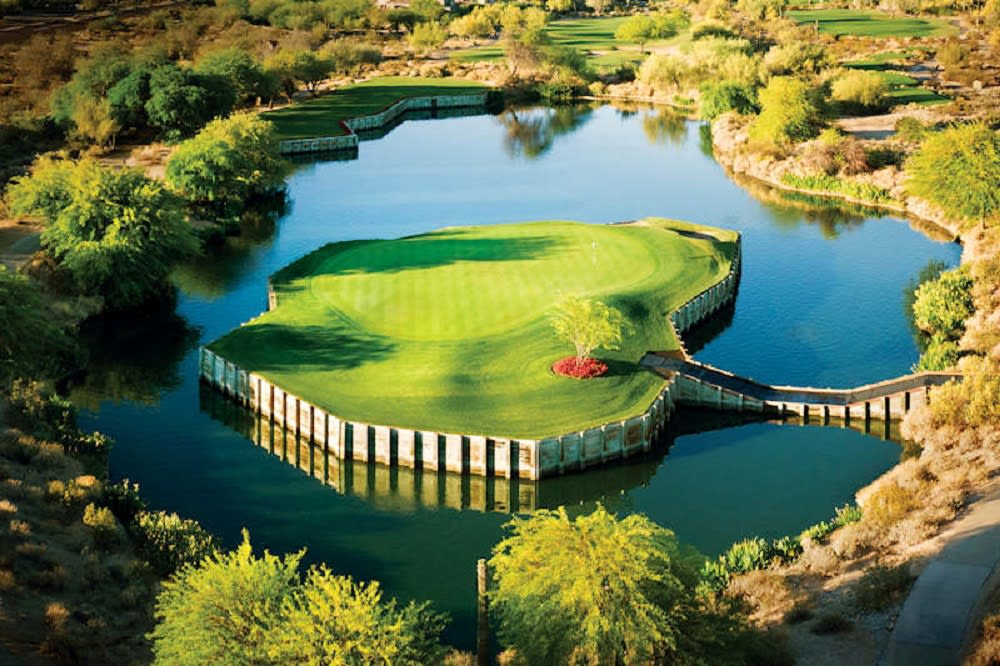 Credit: Grayhawk Golf Club

Grayhawk's Talon course was designed by 1981 U.S. Open and 1979 PGA Champion David Graham and golf course architect Gary Panks. Enjoy breathtaking views of the McDowell Mountains and the Phoenix/Scottsdale skyline as you make your way through a series of deep box canyons with a handful of holes laid out along steep drop-offs and thick stands of Mesquite, Palo Verde, and Ironwood trees. Most of the greens at this course are large with distinctive tiers.
Whisper Rock Golf Club
Boasting 36 holes of premier golfing in Scottsdale, the scratch golfer will love playing a round at
Whisper Rock Golf Club
. With a membership capacity of only 580, this community can guarantee its golfers an elite and exclusive experience unlike any other in the community. Whisper Rock Golf Club opened in 2005 and has been supplying dramatic mountain vistas and mesmerizing desert views ever since.
Camelback Golf Club
The
Camelback Golf Club
, located at the
JW Marriott Scottsdale Resort & Spa
, features two scenic 18-hole courses. Both offer mountain views and native grasses, lakes, and lofty trees. The terrain challenges golfers of all skill levels with its elevation changes, bunkers, and water holes.
Ambiente is an eco-friendly course designed by Jason Straka that caters to a wide range of skill levels and features acres of native desert and grass areas, as well as stunning mountain backdrops. This course offers eye-catching elevation changes and rolling fairways with significant drops, making it a bit of a challenge with a high payoff.
The Padre course was designed by world-renowned golf course architect Arthur Hills and features towering trees, subtle landforms, and impressive bunkering. This course is also known for its strategic layout and lakes.
Papago Golf Club
The
Papago Golf Club
boasts sweeping views of the Papago Buttes, Camelback Mountain, and downtown Phoenix. Located in the heart of Papago Park, the course was designed by William (Billy) Francis Bell, the creator, and architect of the famed Torrey Pines in San Diego.
Legacy Golf Resort
Explore the rich heritage and history of Arizona as you tee off at the
Legacy Golf Resort
, an oasis of green at the base of Phoenix's scenic South Mountain. Legacy is an 18-hole par-71 championship golf course designed by renowned golf course architect Gary Panks.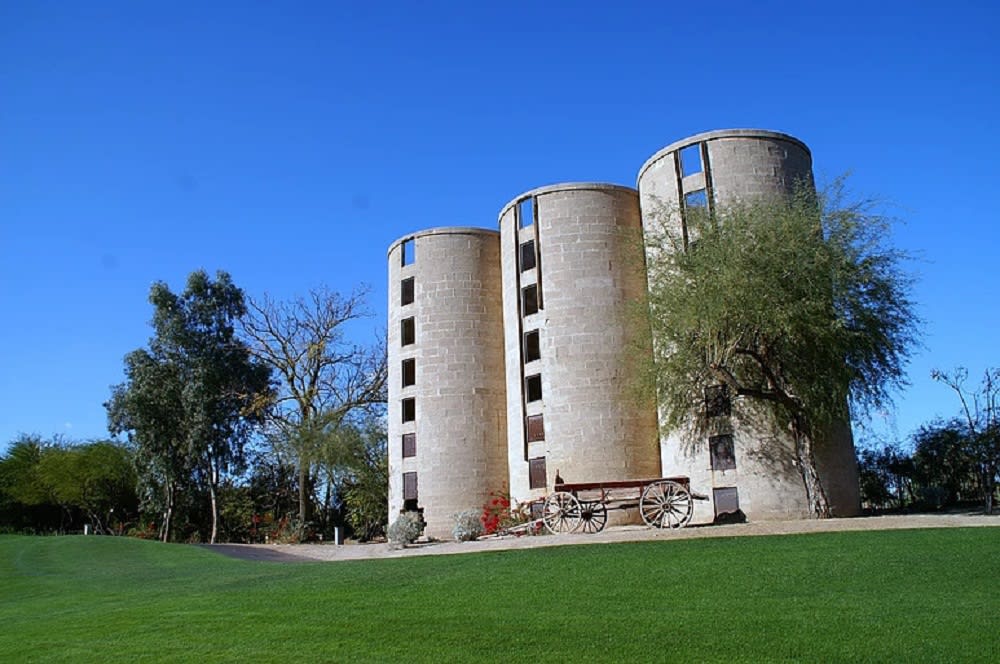 Credit: Legacy Golf Club

Located on what was once local celebrity Dwight B. Heard's 7,500-acre ranch, you'll discover many historical structures and monuments integrated throughout the course. The original two-grain silos, built in 1902, remain along the eighteenth fairway and were once the tallest structures in Maricopa County. The Sierra Vista House, which marks the first tee, was visited by Theodore Roosevelt and Pancho Villa. The course offers a unique look into Arizona history and the Heard legacy from which the golf club takes its name.
We-Ko-Pa
Enjoy a tranquil golf experience at the
We-Ko-Pa Golf Club
, which lies on Fort McDowell Yavapai Nation land, where commercial development is prohibited.
The Saguaro course serves up a unique blend of distinctive desert scenery and traditional golf course design. With greens close to tees, Saguaro is ideal for walking and follows the natural movement of the land. This challenging course will inspire golfers to try different shots and overcome new challenges.
Test your skills at Cholla, a quintessential target-style desert golf course. You'll discover shady arroyos, desert ridges, and picturesque views of the Sonoran Desert. The backdrop to each hole features sweeping views of the nearby river valleys, Red Mountain, Four Peaks, and the rest of the majestic Superstition Mountains. Cholla offers no shortage of aesthetic charm and strategic challenge.
Gold Canyon Golf Resort
Gold Canyon Golf Resort
offers two 18-hole championship golf courses. Challenge yourself with dramatic elevation changes at the Dinosaur Mountain course. You're sure to discover abundant wildlife and stunning views, but the characteristic trait of this course is the rollercoaster that is laced throughout. The Sidewinder course at Gold Canyon leads golfers through arroyos and native desert washes. The course offers a challenging layout for all skill levels.
Orange Tree Golf Resort
Located on a former orange grove, the aptly named
Orange Tree Golf Resort
is a desert oasis. The course has an abundance of trees, providing a welcome respite from the Arizona sun during the summer months, as well as scenic views of Camelback Mountain. Tricky elements incorporated throughout the parkland-style layout will challenge golfers to sharpen their accuracy. There are four lakes along the course, as well as sand bunkers surrounding every green. The resort has been recognized for its ecological efforts in reducing non-recyclable waste, reducing water usage, and implementing a recycling program on the property.
Mountain Shadows Resort
If you're in the mood for a quick round, take in the serene backdrop of Camelback Mountain at
The Short Course
at
Mountain Shadows Resort
in Scottsdale. This course's approachable yet challenging layout is perfect for all skill levels.
The original golf course was designed and built in 1961 by Arthur Jack Snyder. Course architect Forrest Richardson, one of Snyder's students, completely redesigned the course to be a true par-3 in 2017. The Short Course incorporates the natural landscape and beautiful vistas into an elegant layout that will delight any golfer.
There are plenty of opportunities to play a round of golf near Paradise Valley, whether you're a first-timer or seasoned professional. Stunning mountain vistas and serene desert landscape make golfing in Paradise Valley all the more enjoyable.
Moving to Paradise Valley?
If you're interested in buying real estate in Paradise Valley, Scottsdale, or Phoenix, the local experts at
The Karas Group
can help you hunt down your Arizona dream home.

*Header credit: TPC Scottsdale